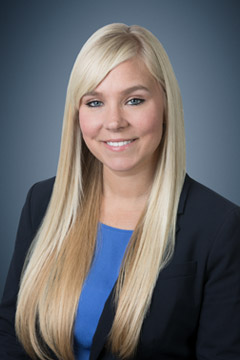 Brittany Conner is a Litigation Attorney at DeMayo Law Offices, L.L.P.  Ms. Conner has a passion for standing up for individuals who have been injured by others and has advocated only on behalf of Plaintiffs. In 2012, she received her bachelor's degree from the University of Georgia in Human Development and Family Science. After spending 2 years in intellectual property and family law, Ms. Conner moved to Boston where she attended Northeastern University School of Law.
Ms. Conner is licensed to practice in Massachusetts, New Hampshire, and North Carolina.  She is a member of the Massachusetts Academy of Trial Attorneys, the Keenan Ball Trial College, the North Carolina Advocates for Justice, the North Carolina Association of Women Attorneys, and the University of Georgia Alumni Association.
Ms. Conner believes that her duty does not end when we secure justice for those that are injured due to the negligent and malicious acts of others. Equally important is learning from the prevention lessons of the case and formulating public awareness to prevent future injuries and death.
FREE CASE EVALUATION
Provide your information below and we'll contact you.
Please do not include any confidential or sensitive information in this form. This form sends information by non-encrypted email which is not secure. Submitting this form does not create an attorney-client relationship.
What Our clients are saying