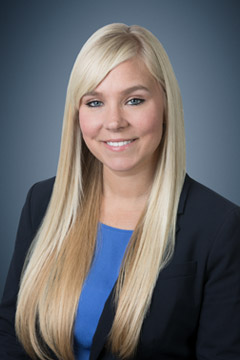 Brittany Conner is a Trial Attorney at DeMayo Law Offices, L.L.P. She has dedicated her career to holding corporations and insurance companies accountable for their wrongdoings and to representing injured victims and their families.
Brittany received her bachelor's degree from the University of Georgia in Human Development and Family Science.  She went on to study the law in Boston, Massachusetts, at Northeastern University School of Law. During law school, she successfully competed on the Mock Trial Team, and was elected Community Chair for Student Body Association.
Combined with her work as a practicing attorney, Brittany has nearly a decade of legal experience with some of the country's top law firms, as well as the United States District Attorney's Office. Brittany's experience includes all aspects of civil practice, from initial client consultations, to case development and investigation, and through settlement and trial. This experience allowed Brittany to work on numerous large and complicated cases from start to finish.
One of Brittany's most notable cases includes advocating on behalf of a fan struck by a foul ball in an unprotected section of Fenway Park. The Red Sox believed they were virtually immune from protecting fans from dangerous foul balls. Brittany helped challenge the Red Sox interpretation of the law and assisted in defeating motions to dismiss and motions for summary judgment filed by the Boston Red Sox. As a result of this case, the Court ordered the Red Sox have a legal duty to protect fans from unreasonably dangerous foul balls in sections of the ballpark where the fans deserve protection.
Brittany worked as co-counsel on a premise liability claim against a landlord who maintained an unsafe stairway. When the plaintiff resident exited her apartment, she tripped on a dangerously placed extension cord causing her to fall down the stairs and break her foot. Britany helped secure settlement mid-trial.
Brittany also obtained a settlement against a driver who struck a woman pushing a shopping cart in the street. Even though the driver did not see her and contested liability, Brittany quickly secured a six-figure settlement for her client.
Outside of the courtroom Brittany is a trained focus group moderator and has consulted on dozens of personal injury cases. Her studies in human behavior and heuristics uniquely equips her with insight into formulating persuasive arguments.
Brittany is licensed to practice in North Carolina, South Carolina, and Massachusetts.  She is a member of the Massachusetts Academy of Trial Attorneys, the Keenan Ball Trial College, the North Carolina Advocates for Justice, the North Carolina Association of Women Attorneys, the Mecklenburg County Bar where she serves on the Social and Networking Committee, and the University of Georgia Alumni Association.
Brittany believes that her duty does not end when we secure justice for those that are injured due to the negligent and malicious acts of others. Equally important is learning from the prevention lessons of the case and formulating public awareness to prevent future injuries and death. Brittany looks forward to meeting those that need her representation and is dedicated to working for the best possible outcome for each client.
FREE CASE EVALUATION
Provide your information below and we'll contact you.
Please do not include any confidential or sensitive information in this form. This form sends information by non-encrypted email which is not secure. Submitting this form does not create an attorney-client relationship.
What Our clients are saying