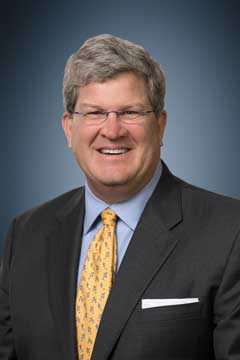 Paul R. Dickinson, Jr. is a Litigation Attorney with the DeMayo Law Offices LLP. Throughout his career, Paul has dedicated himself to helping his clients resolve disputes by accepting, preparing and taking cases to trial. Paul's dedication to his clients and experience in the courtroom have earned him the respect of both his peers and adversaries. He has been rated as "preeminent" in his field by obtaining the highest peer review rating available (AV) from Martindale Hubbell. He has also been selected as a North Carolina Super Lawyer® – an honor limited to 5% of all attorneys statewide. Paul obtained his B.A. at the University of South Florida in Tampa, Florida, and his J.D. from South Texas College of Law in Houston, Texas. Paul is admitted to practice in all North Carolina State Courts, all three of North Carolina's Federal District Courts and the Fourth Circuit Court of Appeals in Richmond, Virginia. He has also appeared in front of North Carolina's Court of Appeals and Supreme Court. Paul joined the DeMayo Law Offices after having been an associate and partner at another firm for over 17 years.
Paul began practicing law in 1990 in Houston, Texas defending large corporations in complex personal injury and wrongful death cases. His growing family later moved to Charlotte in 1994. His career has ranged from litigating individual cases to acting as national trial counsel for an international manufacturer. Paul's practice now focuses on representing clients who have suffered personal injury – including catastrophic injuries, traumatic brain injuries and wrongful death. Paul has successfully tried wrongful death, personal injury, product liability, construction defect and professional malpractice cases in multiple jurisdictions and courts, including jury trials in North Carolina, South Carolina, Texas and Louisiana. He has obtained jury verdicts over one million dollars in both State and Federal Courts, including one of the largest jury verdicts for wrongful death in Johnston County, North Carolina. Paul has also settled many more cases for over one million dollars.
In one of his most notable cases, Paul was lead counsel for six Iraqi families against Blackwater/Xe Services for the infamous September 16, 2007 shootings in a Baghdad, Iraq traffic circle known as Nisur Square (Nissor Square). The shootings left 17 dead. The incident has been described as a massacre of innocent civilians. The shootings were investigated by the US Army, the FBI and Iraq's own national police. Seven Blackwater contractors were originally charged with shooting and killing the innocent civilians. One of the shooters pled guilty to his crimes. Four Blackwater contractors were eventually tried and convicted of manslaughter and weapons crimes. Paul represented the families of three individuals who died that day, plus three others who were shot and survived. One of Paul's clients was the family of Ali Kinani, a nine-year-old boy shot in the head while sitting in the backseat of his father's SUV. Ali's story was documented in numerous international media outlets, including a 30-minute documentary entitled Blackwater's Youngest Victim. Paul obtained a favorable confidential settlement on behalf of all his clients.
Paul's jury trial experience has been varied and in both Federal and State Courts. In one such case a tire mechanic was working on a used commercial vehicle when the tire he was removing suddenly demounted striking him in the head and knocking him back over ten feet, killing him in the process. Paul sued the seller of the used commercial vehicle alleging that the seller did not properly inspect the wheel before it was sold. Paul's investigation found that the wheel assembly was over 30 years old and was mismatched in such a way that it should have been seen on inspection. The defendant offered less than $200,000 to settle the case before trial. Paul obtained a jury verdict of $2,000,000 for the mechanic's widow. In another case a computer programmer was rear ended by a commercial truck while on vacation in South Carolina. The plaintiff had just recovered from a prior head injury in a fall, but was unable to return to work as a high wage-earning programmer after she was diagnosed with a traumatic brain injury. The case was filed in Federal Court in North Carolina. The defendant offered less than $100,000 at a mediated settlement conference before trial. Paul obtained a Federal jury verdict of $1,300,000 for the plaintiff.
These cases are only examples of the experience Paul brings with him to cases on behalf of his clients. Paul knows that almost every client he represents is outnumbered by the wealthy defendants that caused them harm – either by the size of the defendant, or its insurance company. Paul also knows that the legal system equals those numbers when thorough and resourceful work is used to represent plaintiffs against their legal adversaries. Paul has worked on hundreds of cases in litigation and welcomes the opportunity bring his experience to the courtroom for his clients.
Paul was born in Virginia and grew up in Florida, although his family is from the coastal Carolinas. He is married to a local pediatrician with whom he has three wonderful children – and of which he is immensely proud of their accomplishments – a Doctor of Veterinary Medicine, an Air Force Officer and a future teacher. Paul and his family are members of St. Gabriel Catholic Church in Charlotte.
FREE CASE EVALUATION
Provide your information below and we'll contact you.
Please do not include any confidential or sensitive information in this form. This form sends information by non-encrypted email which is not secure. Submitting this form does not create an attorney-client relationship.
What Our clients are saying