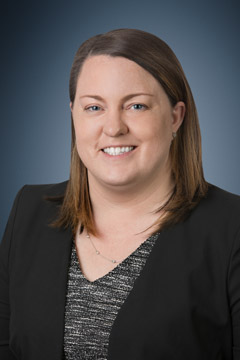 Yvonne M. Costelloe is the Social Security Disability attorney at DeMayo Law Offices, L.L.P.  Ms. Costelloe earned her B.A. at Mercyhurst University where she majored in Criminal Justice with a specialization in Pre-Law.  As a student at Mercyhurst University she was on the Dean's List and was employed in various capacities working with individual's with intellectual disabilities.  Ms. Costelloe graduated with her Juris Doctor from the University of Dayton School of Law's  accelerated program allowing her to complete law school in two years.  She served as president of the Advocates for Child Law Awareness group and served as a Dean's Research Assistant.  She also clerked for a local law firm in Dayton and completed her externship with the Erie County Court of Common Pleas in Erie, Pennsylvania.
Ms. Costelloe was admitted to the Ohio Bar in 2012.  She comes to DeMayo Law Offices, L.L.P. with over six years of experience representing Social Security Disability claimant's during the complex disability process.  She is a member of the National Organization of Social Security Claimants' Representatives (NOSSCR).
Ms. Costelloe enjoys spending time with her family and traveling.
What Our clients are saying