Michael A. DeMayo 2019 Scholarship Program
For the 17th year in a row , DeMayo Law Offices PLLC, is pleased to announce the winners of the fifteen Michael A. DeMayo College Scholarships. The 2019 Michael A. DeMayo Scholarship recipients each receive twenty five hundred dollar ($2,500.00) to be applied and used exclusively towards their college tuition. This year our law firm awarded thirty seven thousand five hundred dollars ($37,500.00) in college scholarships to fifteen exceptional high school seniors. Over the years DeMayo Law Offices PLLC has awarded over Six Hundred and Fifty Thousand Dollars ($650,000.00 ) in scholarships to high school seniors in our community. The winners demonstrated a commitment to academics, community service and a recognition of the big problem of underage drinking and driving. Each student was required to submit an essay or PowerPoint presentation specifically targeting their peers addressing the dangers of underage drinking and driving and suggesting ways to present the message to their peers in an effective and compelling fashion.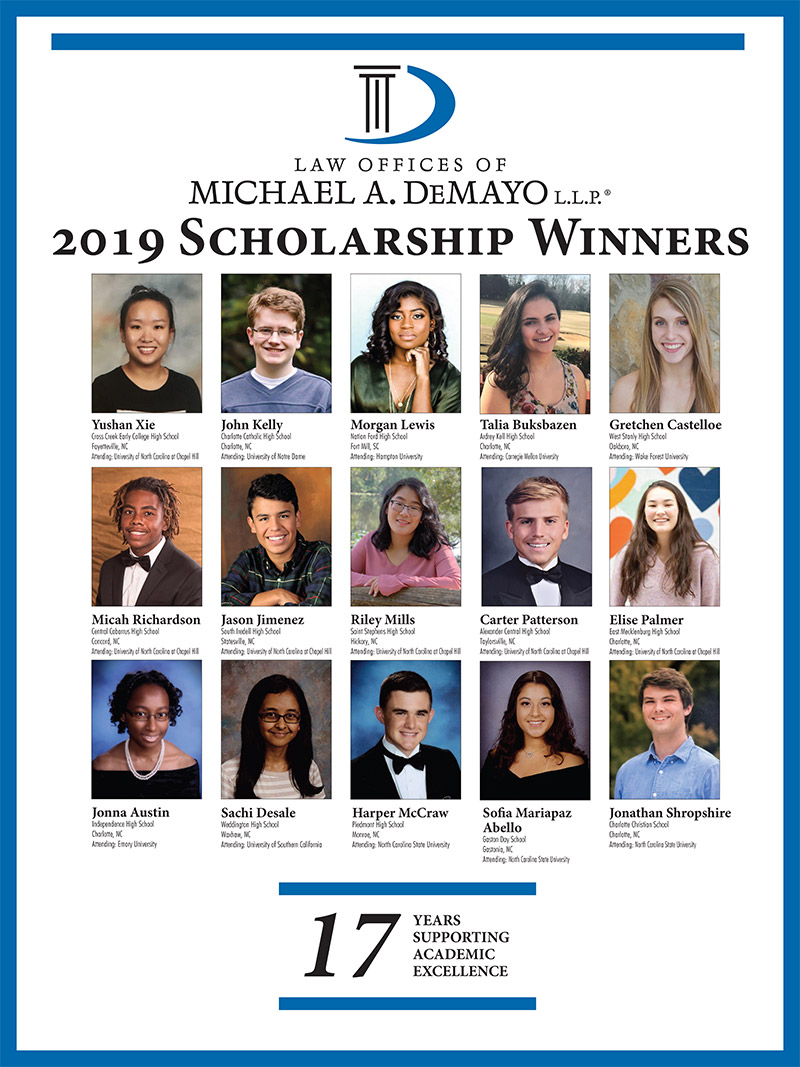 Every year our law firm continues to be impressed and overwhelmed by the number of highly qualified applicants. It is always extremely difficult to select the winners from such an outstanding field of entries. The winning students powerful presentations about the dangers of underage drinking and driving and how to prevent it are the main purpose of the establishment of the Scholarships. Promoting the message will be considered successful if " we even save just one teenager from the consequences of these horrible and senseless wrecks " ( Michael A. DeMayo, circa 2004 ). This scholarship program attempts to address and reduce or eliminate underage drinking and driving in an effort to save lives and prevent needless injuries. We wish all the applicants continued success in all their future endeavors and hope that they will always Arrive Alive.
For more information about the scholarship, contact our firm via email at [email protected]
Michael A. DeMayo Scholarship Recipients by Year
Contact DeMayo Law Offices, L.L.P. ® today to receive more information about our scholarship program or to schedule your free initial consultation with one of our experienced personal injury lawyers.
FREE CASE EVALUATION
Provide your information below and we'll contact you.
Please do not include any confidential or sensitive information in this form. This form sends information by non-encrypted email which is not secure. Submitting this form does not create an attorney-client relationship.
What Our clients are saying